Adopt-a-Piglet
*****  We are not currently taking any more adoptions***
The adopt a piglet scheme runs as follows, you choose your piglet, you put down £50 and all we ask is that you commit to taking the whole animal at the end, which is typically 6 months from its date of birth. With your registration/adoption documents you'll receive a form asking how you'd like your pig butchered. It's the ultimate in traceability and food provenance, you've known your bacon since it was born!
The cost is £7 per kg, this will work out at around £350 for your pig, and includes all killing, butchering and packaging costs. Not included is any curing you'd like (bacon/gammon), which is £5 per kg, so if you wanted a 4kg leg into gammon that would bean additional £20.
We'll send you a photo with your documents and if you ever wanted to call in a visit you'd be most welcome.
We sometimes have weaners for sale, any enquries please call Amanda on 07917710733 or email me at  amanda@dernwoodfarm.co.uk.
Current Adoptees
Ruby and Peppa, cute and stripey.
Cleopatra had her litter on Saturday  26th February,  they are crossed with a Duroc and have come out all different colours and spotty, and extremely cute!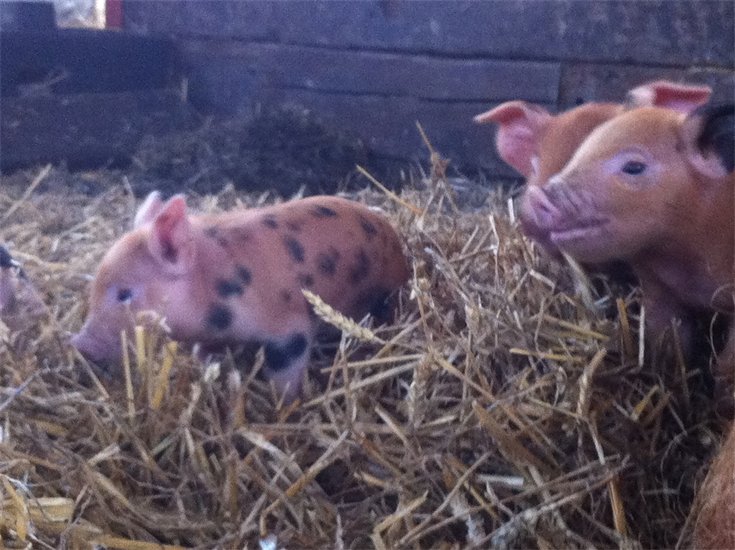 Henrietta's litter was born on the 18th of May, these will be ready mid November, Rizzo had hers on the 24th so they will be ready towards the end of November and Cleopatra has just (30th June) had hers so they'll be ready mid December.