Deli food on site!
Dernwood Farm now offer fantastic deli food on site for you when staying with us, courtesy of our partners Two Sisters Deli.
Our Welcome Packs are full of fabulous local East Sussex produce and have been carefully designed to ease the first day of your holiday stay. If you require additional items or wish to place an order for a mix of items please call and discuss your requirements with us. Alternatively, if you wish to avail yourself of our personal shopper service phone or email us with your requirements – we're here to help you!
Please give us at least 24 hours notice of the yummy deli food you would like delivered. Call on 07535 884446 or email: Justine@twosistersdeli.co.uk
Sussex Breakfast – £17.50
Why not start the day with a hearty, traditional breakfast made up of scrumptious locally produced deli food. (Buy your bacon & sausages from the Dernwood Farm shop).
6 Barn Fresh local eggs
Loaf of Crusty Bakers Bread
Punnet of mushrooms
Butter
Milk
Tea bags
Orange Juice
Local jam
Sussex Grazing Board – £33
For a great start to your holiday why not try this perfect light supper to share when you arrive on your holiday. Delicious Sussex tapas all ready to go!
Charcuterie and cheese selection – consisting of a range of locally sourced and produced cured and air-dried meats and Sussex cheeses. Feeds four. Olives, on the vine cherry tomatoes, savoury crackers and crusty bread top off this wonderful relaxing meal.
Add creamy homemade coleslaw and/or potato salad for extra £3 each.
Picnics Made with Love
All our picnics are bespoke to your requirements, but to give you some ideas, three of our most popular deli food picnics are detailed below.
These are for two people – but each of our baskets can accommodate up to four settings.
Call on 07535 884446.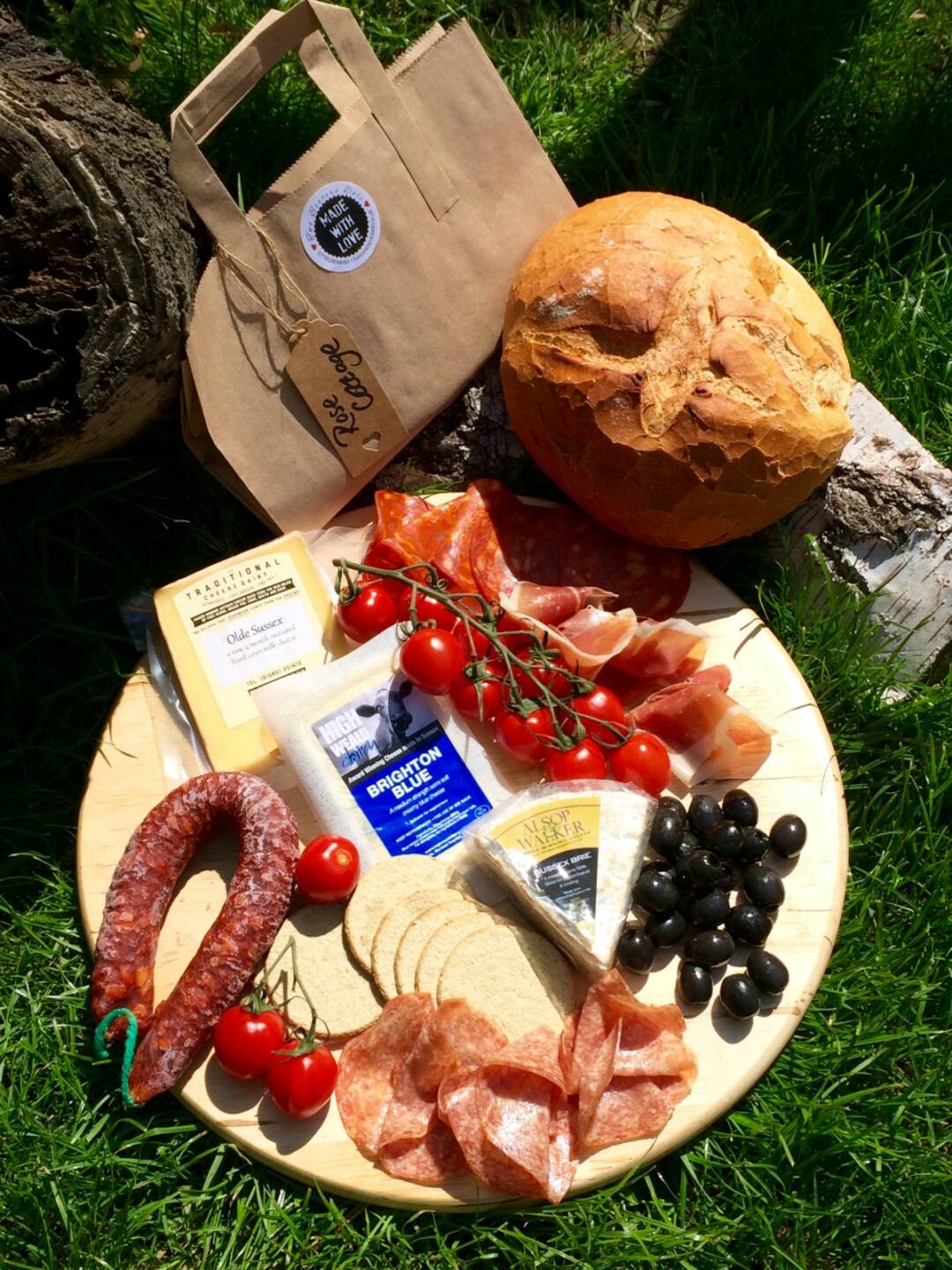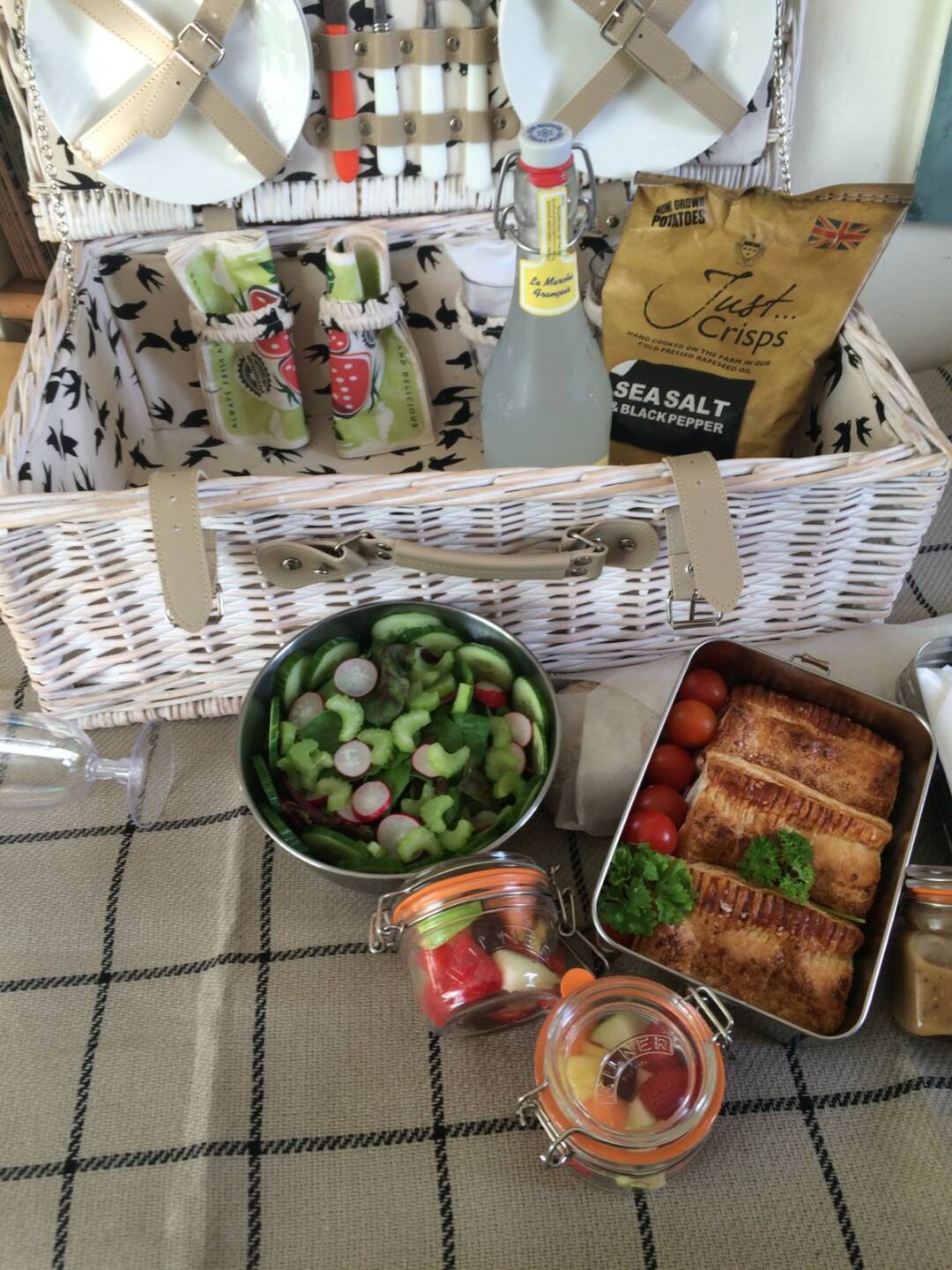 Example 1 – £50
Selection of locally sourced sliced & cured meats and a selection of cheeses.
Crackers or artisan bread
Olives
On the vine cherry tomatoes
Pickles
Homemade new potato salad
Chunky homemade coleslaw
2x deserts
Example 2 – £40
Brie Wedge
Cranberry jam
Artisan bread
Homemade luxury sausage rolls
Posh crisps
Salad pot with dressing
2x desserts
Example 3 – £32.50
Sandwich selection
Homemade luxury pork scotch egg
4x homemade savoury cheese & tomato pastry wheels
Pickles
Posh crisps
2x desserts
Our deserts include:
Eton Mess, chocolate brownies & strawberries, fruit jelly, fruit scones with butter & jam, fresh fruit trifle, cupcakes, fruit salad, summer fruit compote & crème fresh, or fruit.
If we are missing one of your favourites please let us know and we will do our best to accommodate.
In addition, we can supply pink or cloudy lemonade in a glass bottle for £6
We will personalise any picnic to your requirements and budget, a mix and match of the above or any other items you fancy. The perfect picnic is so personal and also depends on the occasion. You may wish to consider pork pies, filled wraps, bagels, nuts, homemade mini quiches, boiled eggs, smoked salmon, cold sausages, the list is endless. Picnics for a romantic lunch, family day out, day at the races or Glyndebourne – we can make your picnic really special and offer gluten free and veggie options too.
Our picnics are supplied wrapped in greaseproof paper, with plastic pots and brown carrier bags – for you to transfer to your own baskets. Alternatively, why not hire a beautiful traditional wicker basket from us. They come with china crockery, cutlery and serviettes. The food is contained in stainless steel or glass containers and is beautifully presented. Hire all this for £30. We also have coordinating picnic blankets and vintage tablecloths available to hire from £10. For large parties of ten plus – we have gastro-norm boxes that are insulated and retain the temperature to within four degrees for four hours. These are free to loan, with a deposit of £50 – refundable on the safe return of the undamaged box.
We require a 50% deposit via bank transfer, cash or debit card in the shop – with the remainder payment being due on collection/delivery of the picnic.
An additional £50 deposit is required to cover the hire of basket, crockery, cutlery & food containers and £15 deposit for the picnic blankets & tablecloths.
This is refundable on their safe & undamaged return.
Afternoon Tea
What can be more quintessentially British than a beautiful Afternoon Tea. Spoil yourselves with this special meal including free loan* of our beautiful mismatched vintage china, pretty table cloths and cotton napkins.
• A selection of beautiful hand-cut sandwiches
• Fruit scones with local jam and clotted cream
• A selection of mini cakes
• Fresh strawberries
• Homemade sausage rolls
Just £30 for two
For that extra special touch, flower delivery – bouquets (in their own aqua-pack 'vase'), jam-jar posies or a single red rose – can be included. Please ask for details when ordering.
We require a 50% deposit via bank transfer, cash or debit card in the shop – with the remainder payment being due on delivery of the Afternoon Tea.
* Refundable deposit required. A £50 deposit is required to cover the loan of our vintage crockery, cutlery, tablecloths etc. This is refundable on their safe & undamaged return.
Call on 07535 884446, and please give us at least 24 hours notice of the yummy food you would like delivered.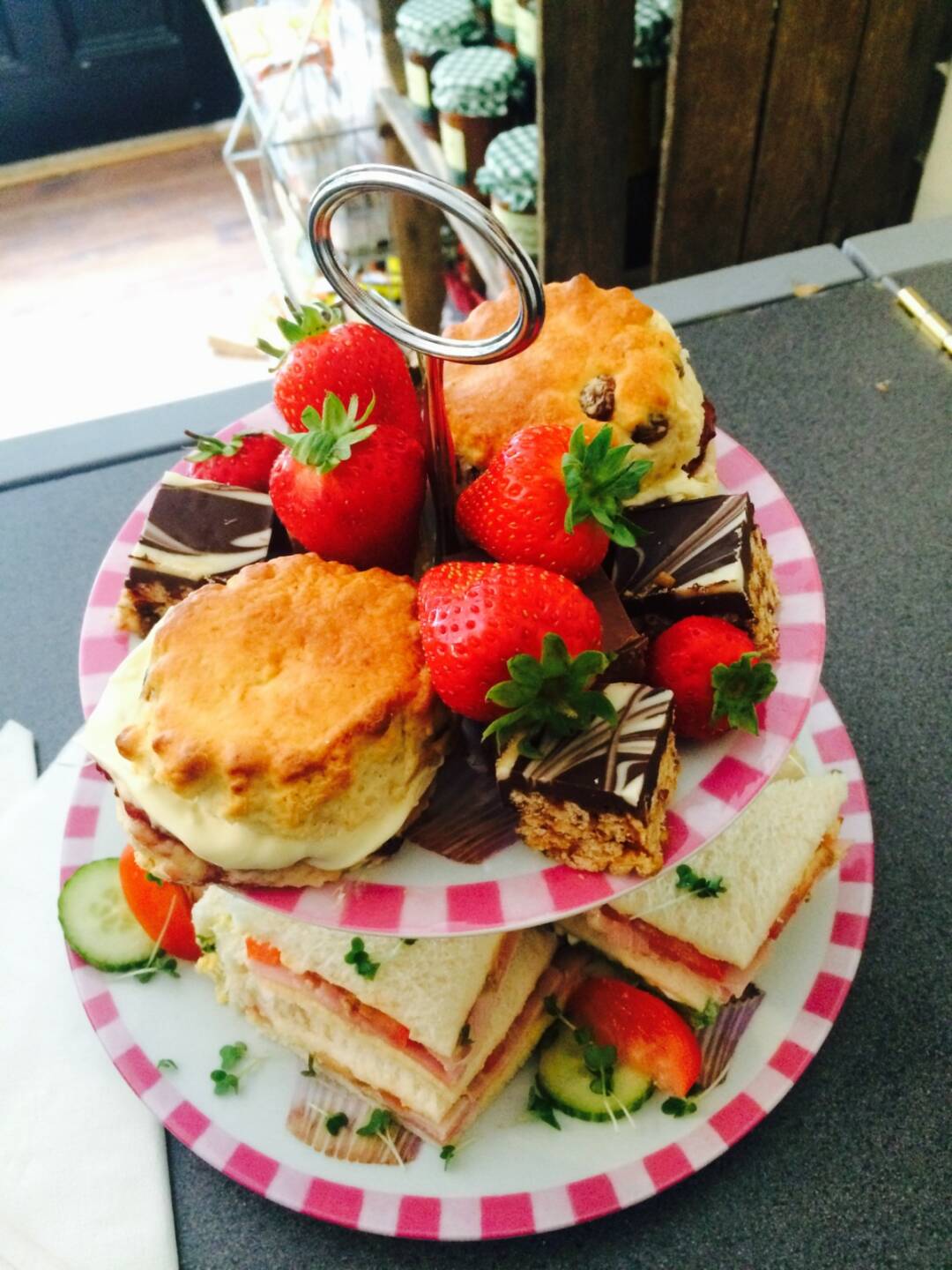 Dinner At Dernwood
We can supply the following homecooked meals for two at just £14, deserts for two £6
Bolognaise Pasta Bake
With garlic bread
Sausage & Mash
With peas & gravy
Apple Pie 
 
 
Jam Roly Poly
Chicken Stew & Dumplings
Tender pieces of chicken with veg in a rich gravy
Savoury Mince Beef
Stew with potatoes in a rich gravy.  Real comfort food!
Black Forest Gateaux

 
 
 
Roast Chicken dinner
With roast pots, stuffing, 2 veg & gravy
Chicken Curry
With rice & naan bread
Fruit scones with jam 
 
 
 
Toad in the Hole
With a jacket potato, 2 veg & gravy
Bacon & Tomato flan
With hot new potatoes, coleslaw & salad
Chocolate Fudge Cake 
 
 
 
Fish Pie
Three fish in cheese sauce with creamy mash & 2 veg
Chicken Pie
With a jacket potato, two veg & gravy
Treacle Poke Cake 
 
 
Apple Strudel
Chilli Con Carne
With rice or jacket potato
Lasagna
With salad
Raspberry flapjack 
 
 
 
Cheesy Chicken Pasta bake
With broccoli & garlic bread
Veggie Chilli with rice 
Fruit crumble 
 
 
 
Macaroni Cheese
A classic with a gratin top
Having a BBQ? Buy your lovely fresh meats from the farm shop & we can supply salads & all the sides …
Fruit platter with Strawberries 
 
phone or email for prices
Cheesecake & cream
Sausage & chips
With baked beans
 
All deserts served with custard, cream or ice cream
If you can't see your favourite here, let us know & we will be happy to try & accommodate. A minimum of 24 hours required.
All subject to availability – book early to avoid disappointment! Call us on 07535 884446 or email: Justine@twosistersdeli.co.uk