Glamping in Bell Tents
Come glamping in Bell Tents! Our Bell Tents are sited just off the sunset side of the camping field so they catch the last of the evening sun, Ash & Willow are 5 metre tents sleeping 4 people and Oak is a 6 metre tent sleeping 6.   Ash & Willow are in  a large grassy clearing separated by a large hedge, they  are private enough for individual use but also  work really well for 2  families to book together,  Oak is in  its own private wooded clearing.  Inside each tent is a wood burning stove and extremely comfortable  sofa beds which  turn easily into very comfortable beds at the end of the day. Make sure you watch the video below (bell tents 2021) which shows the tents on their new decks and kitchens.
In 2021 we extended the decks and built new outdoor kitchens for each tent with 2 ring gas hob, sink and all the crockery etc need for your stay, this reduces the shared facilities meaning each tent is more self contained,  Ash and Willow have a table and chairs on the deck with a  brazier, Oak has a picnic table by the fire pit & also table with bench seats in the out door kitchen.  Each tents has a fire pit with tripod and Dutch oven, great for cooking stews,  or even pizzas in!
The bell tents have their own toilet and shower facilities. We are always aware of our green credentials, so we have built a 'Tree Bog' situated in an ancient grove of willow trees. There is an outdoor (cold) shower – you can either heat up some water to put in the galvanised shower bucket, all part of the fun, or there's the shower block up at the car park for the more faint hearted!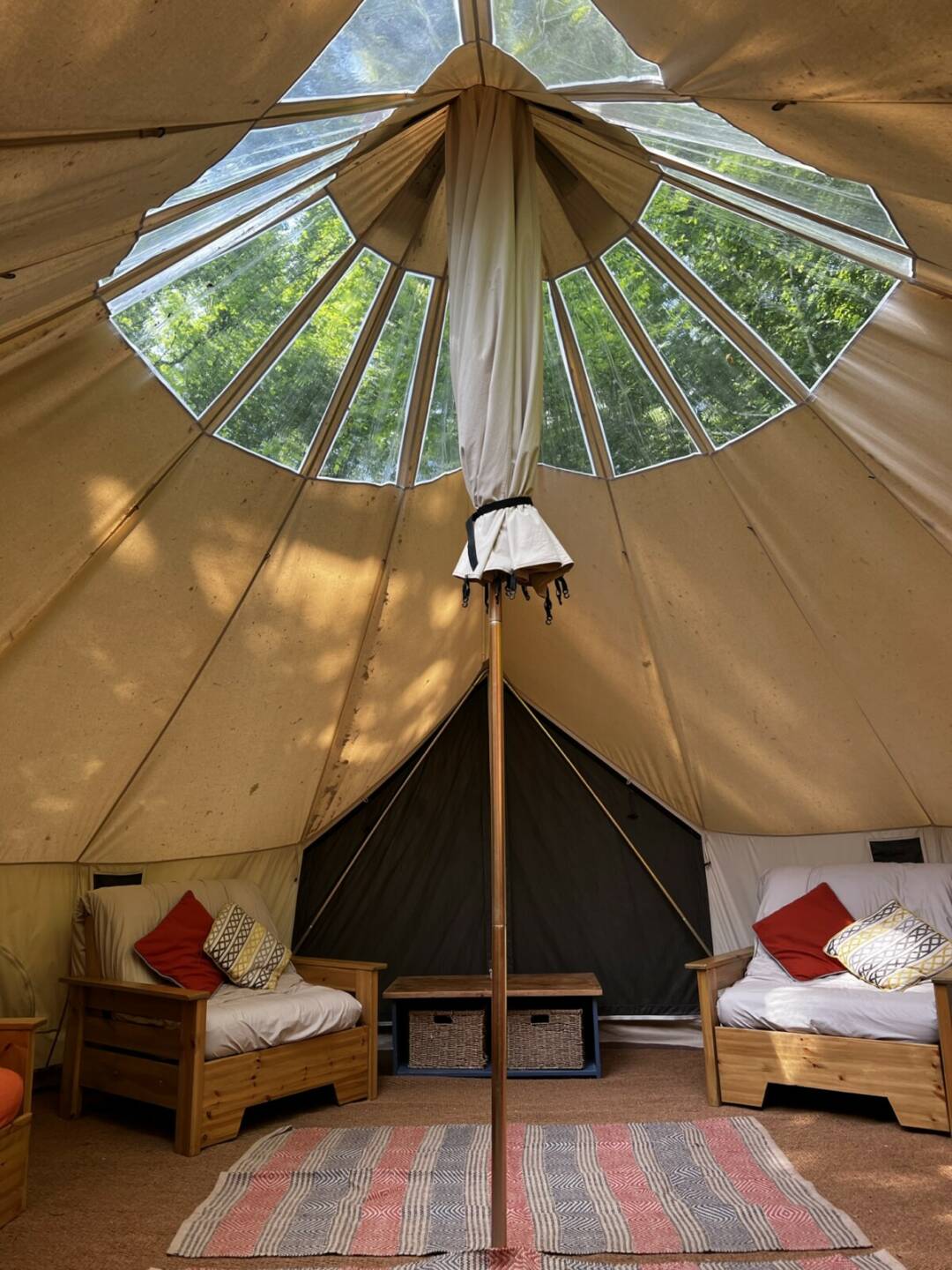 The Bell Tents are situated near our Wild Camping field and are a 400M walk from the car park.   Farm map https://dernwoodfarm.co.uk/farm-map/   The site is car free and off grid – no power in the tents. Those with mobility concerns should call first to discuss on 01435 812726.
You need to bring your own bedding and towels. We also suggest you bring a torch and a battery powered light for use inside the tent.  We provide an initial 'fire pack' of  1 x 15kg net of logs, 1 net of kindling, 1 pack of fire-lighters and a pack of matches. More of all of these can be bought at our shop. Dogs are welcome but please can they bring their own beds and bowls!
No smoking inside the tents please.
Bookings
Tents are bookable for either a 2 night Friday and Saturday night break, or for a small increase you can also book the Sunday night.  And midweek you can book for 4 nights breaks Monday to Thursday. Outside our busy periods of school holidays we can be flexible and offer shorter breaks during the week so please do email me your requirements: amanda@dernwoodfarm.co.uk
Please check our "Things to Know before you Book" section on the Booking Information page so you understand what kind of site we are.
Glamping & Bell Tent Pics