Wild in the Woods
Dernwood Children's Woodland Club
We're excited to be running some great Children's woodland club groups again this year with Wild In The Woods!
Various dates and activities over the summer to book your little and big ones on to have some wild woodland fun. To check availability for your dates and book (these are not drop in events) click below
Weekend Dates 2023
29th/30th July
12th/13th August
19th/20th August
26th/27th/28th August
Please email wildinthewoods88@gmail.com for other available dates
What to expect:
Laura provides a relaxed, safe, fun and creative sessions for all -including adults!
She has a patient and kind manner, used to working with children of all ages and abilities. She loves leading the groups at Dernwood Farm being in such a beautiful woodland with families, creating a unique experience to remember and time for children to be 'wild in the woods'!
You might…
Try bushcraft, discover ancient knowledge of woodlands and their people, make your own Bow and arrow to take home, play nature games in the forest, get crafty,learn a new skill, complete the fire challenge, weave an exciting story with the group around the fire and experience a little woodland magic.
• Adults can have some well deserved 'adult only time'
• All staff are DBS checked and Laura has a current first aid qualification, relevant insurance and Level 3 Forest School training.
• Adults and under 2's free
• Children aged 2 – 5 need to be accompanied by an adult Aged 6 + can be unaccompanied, adults are welcome
• £20 per child
• Sibling discount
• 2 hour sessions morning or afternoon
Clem Aged 7 "LOVED all of it, and especially enjoyed making nettle pancakes, she described the experience in her show and tell last week at school
As a qualified Level 3 Forest School Leader training with the Sussex Wildlife Trust,
Laura has over 9 years experience running outdoor sessions in and out of schools,
to help develop and support mental well-being, inspire creativity, build
resourcefulness and teach how to respect and care for the the natural world which
supports us.
Laura is available for group bookings of 6 or more children, Birthdays, schools
groups and sessions for older children.
Email wildinthewoods88@gmail.com
Phone: 07784 684541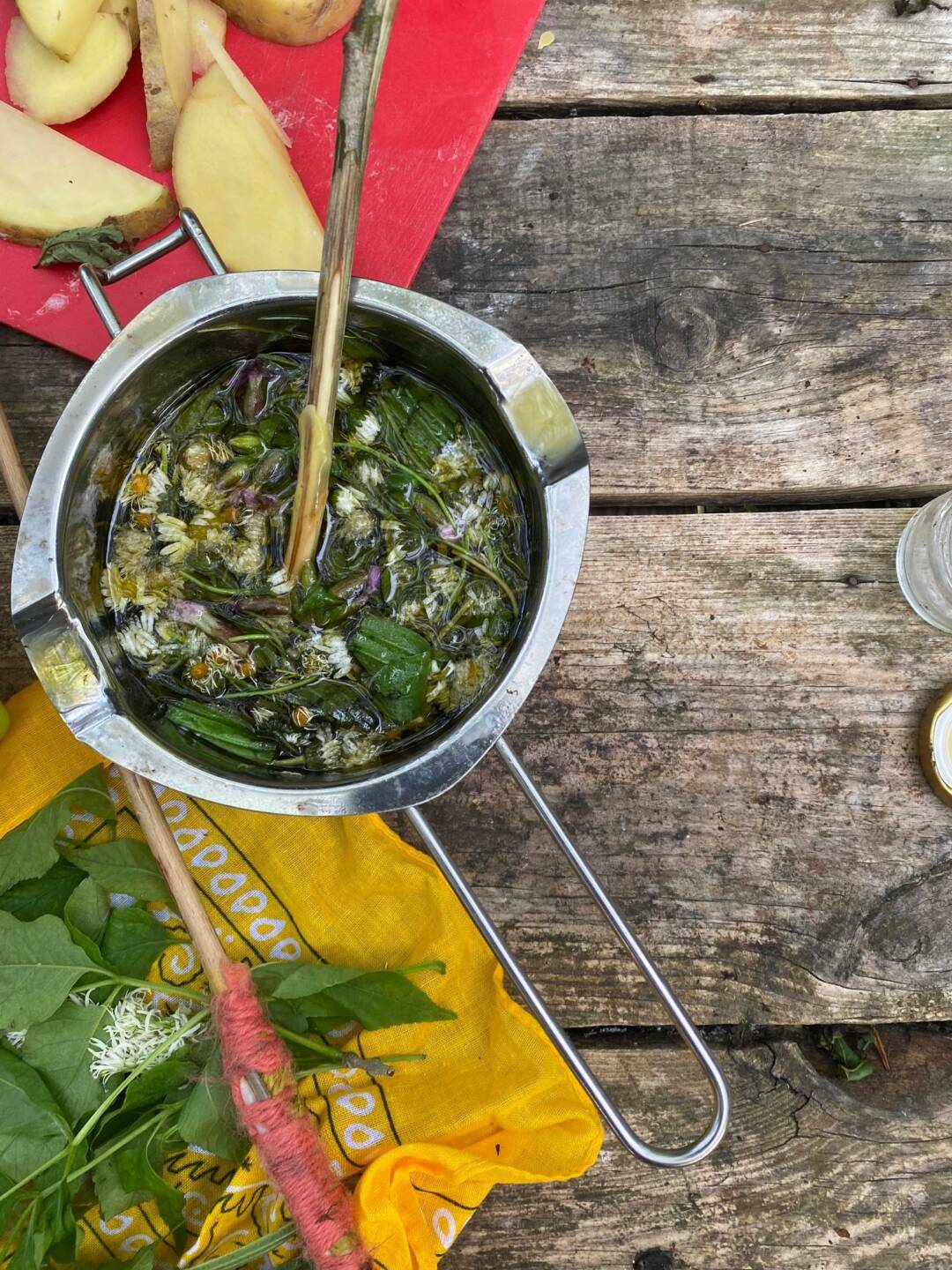 Themes on offer are:
Camouflage and Bows
Very popular! Make your own bow and arrow from local Hazel green wood, learn to shoot your bow safely, make and use natural camouflage to hide from your friends!
2.5 hours                 Suitable for families and age 6+  
Woodland Gnomes and potions
Have you ever wanted to make your own magic potion? Make a woodland gnome out of wood and take them on a journey to meet magical beings that live in the woods, complete the tasks along the way and collect the ingredients for a magic potion to make and take home.
2.5 hours                          Suitable for families with Children aged 3+
Sunday Morning Session
Forest School inspired activities for a lazy or busy Sunday morning!
Leave the kids while you pack up your tents. Play woodland nature games, make a den and have a go at making a natural craft join us at the end round the fire for a cup of nettle tea and a story created by the group!
Types of activities they might do: – sneaking and creeping games, woodland challenge, capture the flag, den/shelter making, nature walk, nature spotting, clay pots, nature art, spinners, use of hand tools, saw wood disks, fire lighting, elder beads.
2.5 hours                         Suitable for children aged 5+
Campfire craft – Food and Fire
Complete the fire challenge!  Light a fire without matches, learn how to build a fire, and be safe around it.  Make a cooking tool (tongs or whittled stick) out of wood and cook your own snack over the fire. Try some wild foraged food. Play nature games and enjoy your food around the fire with a story.
2.5 hours                  Suitable for families and age 6+
Woodland Artists  – Make charcoal for drawing and paint from natural local resources to take home. Make your own woodland sketch book, sit calmly in nature and use your new woodland art materials to record what you see, hear, feel. Have a snack cooked on the fire.
2 hours                        Suitable for families and children aged 4+
 Green Woodwork for older kids
Sit round the fire to learn how to use a tool (knife/peeler) safely to make an item out of green wood to take home, whist the fire crackles. Items could be made – staff, sign for bedroom, butter knife, mallet, beads and nettle string. Time and support to work on a project. Snack cooked over the fire.
2.5 hours                     Suitable Aged 7+ and able to use a peeler or whittling knife
£25 per child
Group bookings of 4 children minimum