Breakfast & Brunch Cafe
Served 9-12
Bacon bap/sausage/veggie sausage £4.95
Breakfast bap ~ bacon, sausage & egg £6.95
Scrambled eggs on toast, white or granary £5.75
Beans on toast, white or granary £5.75
Crushed avocado & tomato on sourdough with poached egg & spinach & sriracha mayo £9.25.
Breakfast burrito~ wrap filled with scrambled egg, peppers, onion, potato and cheese, served with spinach and tomato £8.75 (add 2 x rashers of bacon £1.00)
Dernwood deluxe~ 2x rashers of bacon, 2 x sausages, hash brown, mushroom, tomato, beans, egg of your choice & toast £10.95
Veggie Dernwood deluxe ~ 2 x veggie sausages, 2 x hash browns, mushrooms & spinach, tomato, beans, eggs of your choice & toast £10.25
American style pancakes with maple syrup & chia berry jam £7.95
Toasted English muffin with scrambled egg, smoked salmon, spinach & sriracha mayo   £9.50
Croissants ~ x2 with butter and jam £4.25
Pain au chocolat ~ x2 with butter £4.00
Toast, granary or white with butter & jam, marmalade or marmite £3.00
Snacks
Sausage roll £3.00
Scotch egg £ £3.70
Caramelized red onion & goats' cheese tart. £3.70
Vegan sausage roll £ 3.00
Flap Jack £ 2.20
Rocky Road £2.20
Granola bar £2.20
Lemon drizzle cake £2.20
All the meat is from our own animals on the farm, other produce is sourced as locally as possible.
PLEASE ADVISE US ON ANY SPECIAL DIETARY REQUIREMENTS OR ALLERGIES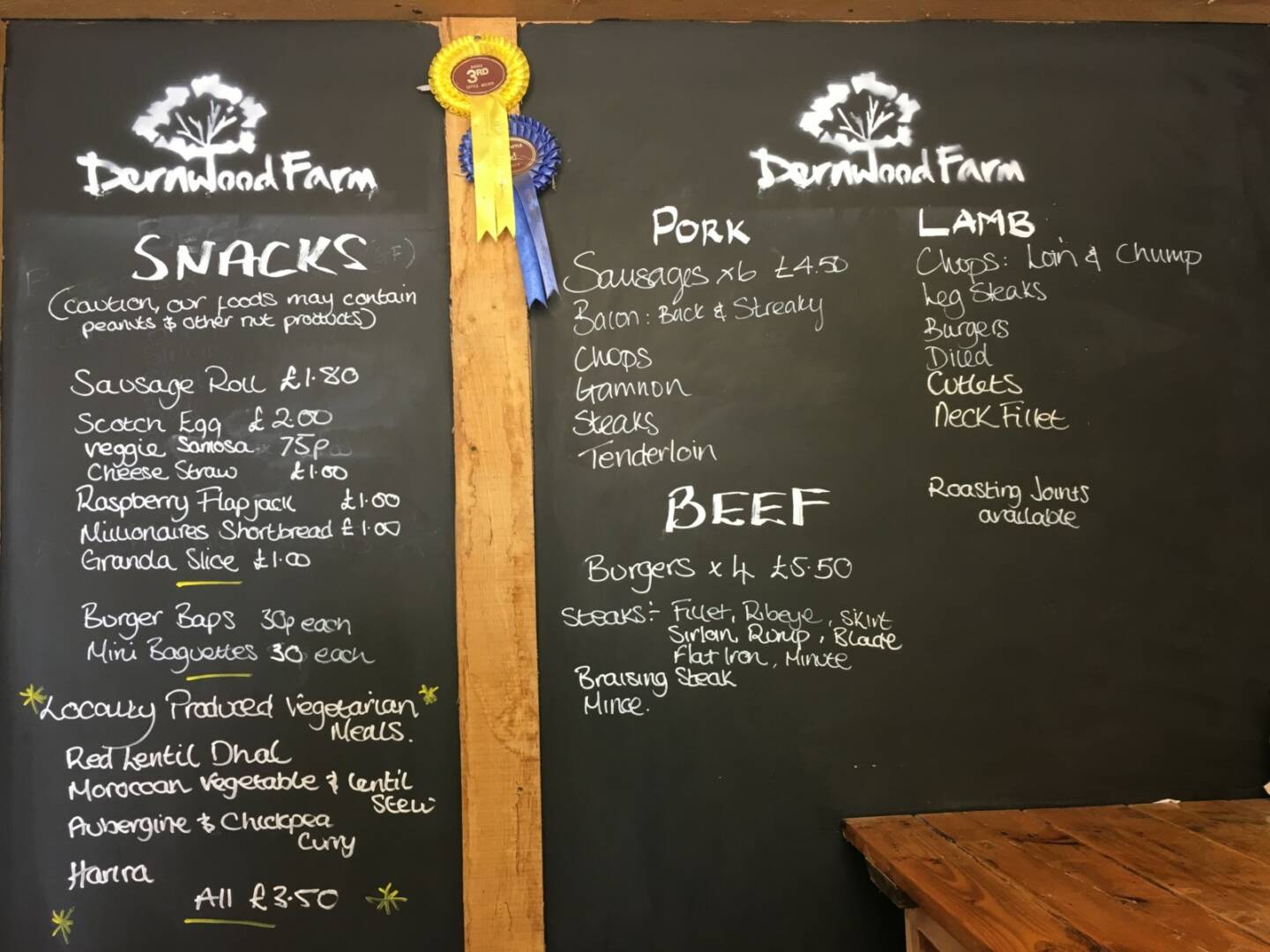 DRINKS 
Mug of tea (decaf available): £1.70
Mug of coffee (decaf available) £1.70
Fully loaded hot chocolate £ 4.00
Milkshakes: raspberry, chocolate or banana £ 3.50
Fruit juice: apple or orange £1.20
Cans of drink £1.50
Opening Times
Please note that opening times may be adjusted if we are very quiet, you will recieve an arrivals email with details a few days before your stay.
(outside school holidays)
Friday: 2pm – 7pm
Saturday: 9am-5pm
Sunday 9.30 -12 (seasonal)
School Holiday Opening
Monday – Saturday  –  All Day
Sunday 9.30 -12
During the week outside  school holidays
By arrangement.